Glenkens Farmers' Market
The Farmers' market is held on the second Saturday of the month in Dalry Town Hall.  It sells locally produced meats, poultry, cheese, eggs and breads as well as home made jams, cakes and biscuits.  Some of the finest produce in Dumfries and Galloway is on sale at the Market.
---
Castle Douglas - 'Food Town' 
Staying on the theme of food, Castle Douglas has over 50 thriving food related businesses in the town including cafés, restaurants, delicatessens, butchers, grocers, chocolate makers....mouth watering? 
For more information visit: www.cd-foodtown.org
---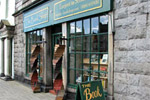 Wigtown - 'Book Town' 
Just under an hour's drive away you'll find Wigtown - Scotland's first ever official 'Book Town.' 
The annual book festival which this year runs from 27th September - 7th October continues to go from strength to strength and attracts authors of the highest calibre from all over the UK and abroad.  There are also over 20 book related businesses in the town including
'The- Bookshop' Scotland's largest second hand bookshop and a café/women's bookshop Reading Lasses - both well worth visiting.
For more information visit: www.wigtownbookfestival.com
---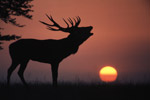 Galloway Red Deer Range
A marvellous opportunity to see deer in their natural environment.  In Galloway Forest Park, The Forestry Commission have created a 'red deer range' where you can see stags, hinds and calves (depending on the season of course) roaming around the hillsides.  The trail begins at the carpark and if it's raining you can shelter in a hide which is well sign posted from carpark to the viewing point.
From New Galloway: Take the A712 sign posted Newton Stewart and follow this road for approx. 8 miles. 
OS Grid Reference: NX 521 731
For more information visit: www.forestrycommission.gov.uk
---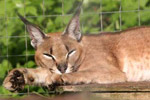 Galloway Wildlife Conservation Park
Galloway Wildlife Conservation Park, near Kirkcudbright, is the wild animal conservation centre of southern Scotland.
With a varied collection of nearly 150 animals from all over the world it's  set in 27 acres of mixed woodland - creating a peaceful, natural setting for the animals.  All the animals are very comfortably housed in large, imaginative enclosures allowing families to enjoy watching them at relatively close quarters. 

For more information visit: www.gallowaywildlife.co.uk
---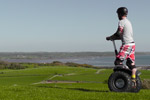 Laggan Outdoor Activity Centre 
With a truly enticing range of family activities on offer including grass sledging, segway tours, archery, zip wire, clay pigeon shooting and reverse steer jeep......along with 'multi-activity days' you will most certainly return to Covenanters cottage, 'tired but very happy' if you visit here.  A great day out is guaranteed. 

For more information visit: www.lagganoutdoor.co.uk
---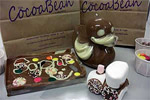 The Cocoabean Company - Chocolate Factory
Scoff 'till you drop! That's certainly the temptation at our local chocolate factory! The Cocoabean Company is only a short drive away at Twynholm just off the A75.  Here you'll find a family run chocolate factory where visitors are welcome to watch us make and decorate our  hand made  chocolates.  There are several chocolate workshops with glass viewing walls, a large café and extensive, imaginative play areas outside - something for everyone!

For more information visit: www.thecocoabeancompany.com
---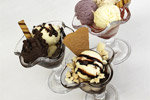 Cream o'Galloway  
Fun and games for all the family including nature trails and wildlife dipping ponds, plus delicious, organic home made ice cream like you've never tasted before! - full details of their action packed programme of events can be found on their web site.
For more information visit: www.creamogalloway.co.uk
---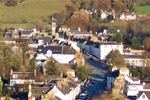 Gatehouse-of-Fleet  
Lying within one of the region's three National Scenic Area this pretty and historic town with its galleries, pubs and delightful gardens sits on a farmed landscape in the valley, surrounded by broad-leaved woodland in the north and to the south the coastal bay. 
For more information visit: www.gatehouse-of-fleet.co.uk
---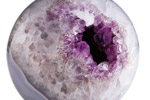 Creetown Gem Rock Museum 
First impressions may be unassuming but this interactive, award winning museum is famous world wide and is the leading independent museum of its kind in the UK.  Well worth a visit.
For more information visit: www.gemrock.net
---